Liebe dein Gesicht und wie Face Yoga hilft
Liebe dein Gesicht – das sagt sich vermutlich jeder irgendwann mal und meint dabei, dass er sich wünscht, sein Gesicht zu lieben, wie es ist. Meistens ist es aber eher schwer, es einfach anzunehmen und zu lieben. Du siehst Makel in deinem Gesicht, die andere faszinierend an dir finden – nur du nicht. Du siehst Alterserscheinungen hier und da oder eine angeborene Asymmetrie, die niemanden stört, die DU aber noch nie leiden konntest.
Deine Betrachtungsweise führt mit der Zeit zu einer Reihe von Unsicherheiten wodurch du dich als Meisterwerk, dass du schon bist nicht mehr erkennen kannst.
Liebe dein Gesicht

 – warum das manchmal schwerfällt
Stolpersteine auf dem Weg
Schon in jungen Jahren, wenn unser Körper wächst, sich ständig verändert, die Hormone das äußere Erscheinungsbild verändern, sind wir nicht immer glücklich. Irgendwann ist die Pubertät endlich vorbei, die Pickel verschwunden und nur kleine unscheinbare Narben bleiben als Erinnerung an diese Phase. 
 Mit 40 dann die ersten Falten, seien sie vom herzlichen Lachen oder vielen Sorgen oder einfach nur einem wild genossenen Leben. Krähenfüßchen hier, Zornesfalte dort. Mit 50 geht die Veränderung im Gesicht in die nächste Phase – unsere Muskulatur beginnt abzubauen und zu erschlaffen. Dazu gehört auch die Gesichtsmuskulatur. Dafür gibt es verschiedene Ursachen, unter anderem: 
Haltungsfehler, die sich über die Jahre manifestieren und natürlich die Schwerkraft tragen dazu bei, dass die Haut im Gesicht absackt. 
Stolperstein 1: die Ungeduld
Irgendwann beschließt du dann vielleicht etwas zu tun, um deine empfundenen Problemzonen zu verbessern oder zu verändern. Du entdeckst die Face Yoga Methode, bei der du mit gezielten Übungen deine Gesichtsmuskeln trainieren, die Durchblutung deiner Gesichtshaut anregen und sie straffen wirst. 
Jeden Tag, ganz fleißig übst du Yoga fürs Gesicht. Nach einiger Zeit stellst du fest, dass du nicht sicher bist, ob sich etwas tut – gibt es einen Erfolg, eine Veränderung? Hhmm, ja, vielleicht ein bisschen. Wieso geht es nicht schneller? Liebe dein Gesicht ist schneller gesagt als getan. 
Stolperstein 2: die Zweifel
Und meistens, selbst wenn du es kurz zulässt, anzuerkennen, dass sich doch ein sichtbarer Erfolg eingestellt hat, hörst du dich im selben Augenblick sofort ein ABER…hinterhersagen. Zweifel und Unsicherheit überwiegen und selbst positives Feedback von außen kommt bei dir nicht an. Liebe dein Gesicht ohne zu zweifeln – das kannst du lernen. 
Stolperstein 3: das Nicht-Annehmen
Face Yoga kann dir helfen, endlich JA zu dir zu sagen, wenn du dein Gesicht im Spiegel betrachtest und dir sagst: "Ich liebe mein Gesicht". JA zu sagen bedeutet nicht von allem, was du siehst begeistert zu sein, sondern einfach JA zu dir zu sagen, JA zu so wie du jetzt bist. Denn auf dieses JA wartest du im Grunde schon ein Leben lang. Du hörst es aber nur von anderen, aber du kannst es selbst nicht anerkennen, weil du es dir selbst verweigerst. Es muss also von dir kommen! 
Liebe dein Gesicht – wie Face Yoga dir hilft
Das gezielte Trainieren aller wichtigen Gesichtsmuskeln in deinem Gesicht ist die eine Seite von Face Yoga Übungen. Die andere Seite, die das Face Yoga Training deiner Gesichtsmuskeln begleitet, kommt von ganz tief in deinem Inneren.
Face Yoga zeigt dir, dass du deine Autoritätsperson bist, für die du verantwortlich sein darfst und den von dir empfundenen Makel (was auch immer es sein mag) annimmst und dich dazu bekennst. Nur was du hast, was zu dir gehört, kannst dich transformieren, also verändern. Wenn du in deinem Inneren etwas angenommen hast, freut es dich und macht dich ganz unbewusst sehr kooperativ. Deine Verwandlung geht damit also leichter voran und bald fällt es dir viel leichter, dein Gesicht zu lieben.
Liebe dein Gesicht Quick Tipps
#1

Nimm dir genügend Zeit für dich und dein Gesicht

#2

Pflege und verwöhne dein Gesicht und deinen Hals

#3

Sei dankbar

#4

Sei stolz auf dich und dein Aussehen

#5

Schenke dir selbst öfters ein Lächeln
Wie Face Yoga dir helfen kann, deine innere Einstellung zu ändern
Face Yoga zeigt dir, neben dem eigentlichen Gesichtsmuskeltraining, wie du  
mit einem liebevollen, klaren Blick auf dich schaust

 

das Wohlwollen aus deinem Umfeld ernsthaft annimmst

 

dich über jede konstruktive Rückmeldung dass es Veränderung gibt, freust.

 
Bei sich zu bleiben erfordert ein tägliches daran Arbeiten – Schritt für Schritt, Tag für Tag und natürlich wird dir Face Yoga dabei helfen, deine Ziele zu erreichen. 
Liebe dein Gesicht Face Yoga: Es gibt einige #Must Have Übungen
Diese war für mich die größte Herausforderung – bist du bereit diese Face Yoga Übung in deine Morgenroutine aufzunehmen? 
Schau in den Spiegel und sage laut zu dir: "Ich liebe dich!"  
Wie fühlt es sich an, kannst du es mit Leichtigkeit annehmen?  
Oder, verspürst du einen in dir aufsteigenden Widerstand?  
Wenn Ja, es darf dauern! Versuche es morgen wieder. 
Liebe dein Gesicht und die Vorteile von Face Yoga Übungen
Face Yoga Übungen lernen dir, die Muskeln in deinem Gesicht wahr- zunehmen, zu entlasten, entspannen und wieder aufzubauen.  
Du lernst die Gesichtsmuskulatur nicht vom restlichen Körper zu trennen 
Durch die Selbstannahme verändert sich dein Selbstbild und du kannst deine Erfolge sehen und spüren 
Ein entspanntes, strahlendes Gesicht und "eine wohlwollende Haltung dir selbst gegenüber können auch dein Leben verändern". 
Der Schlüssel zu alldem bist du … und natürlich Face Yoga! 
Quotes zu "

Liebe dein Gesicht"
Du bist ein Meisterwerk, dass es nur einmal gibt. 
Dich selbst zu Lieben ist der Beginn einer lebenslangen Romanze (Oskar Wilde). 
 Liebe dein Gesicht, denn es ist die Bühne deiner Persönlichkeit.
Ira 

Ganas

 Face Yoga meets 

onelove

 

Naturkosmetik

 by Melanie Salomon
Face yoga and natural cosmetics complement each other wonderfully – my daily "must haves" are some products from a small Austrian manufacturer that has been based in Krems, Lower Austria for over 15 years. Everything that we apply from the outside to our skin gets into the blood in 28 seconds, so it is advisable to resort to nature. Not the complexity of the recipes, but the simplicity of the wonderful nature and the best quality of the organic raw materials are in the foreground. The direct purchase from regional suppliers and small farmers, through to the glass packaging and stylish, practical details correspond to sustainability on all levels and the love for mother earth. The focus is to strengthen the skin in its naturalness and to respect and support the natural processes, as in Ayurveda.
Here are my 3 "must have's"
Eye oil balm gold roller
So beneficial, it takes care of the delicate eye area every morning and evening.
Moist Care Gold Nebel
Intense freshness kick in the morning and evening before applying the care and in between for face, hair and body.
Tooth cleaning powder gold
Gentle cleaning and care of teeth and gums. I use it in the morning and my paraton box has been noticeably better since then. Discoloration dissolves.
As we get older, the needs of our skin also change – that's why I recommend incorporating face yoga exercises at the latest in order to get a radiant, fresh and smooth face with organic natural cosmetics.
The products are lovingly handcrafted and bottled meditatively.
In the sense of "you are golden" in harmony with mother nature, who we are too.
Every purchase, every value we choose as value makes a difference in this world. Only together will we create companies with real values for ourselves and our children.
We have put together a 30 day cure for you.
FACES - IN THE ALBERTINA
How we see and perceive ourselves not only influences our reflection in the mirror, but also how we are perceived by those around us.
Face yoga gives you a benevolent, self-confident attitude towards yourself.
Our faces reflect all our joy, but also disappointment, stress, anger and fear.
This stresses our facial muscles physically & mentally and triggers a series of chain reactions in our bodies.
Tense one – tense the other
As a holistic teaching, face yoga excercises help us locate, feel, then release and finally train our facial muscles.
Breathing, posture and habits also play a big role.
I am very excited to introduce face yoga to everyone with some great portraits in this exhibit in the background.
Link to the exhibition: FACES – Albertina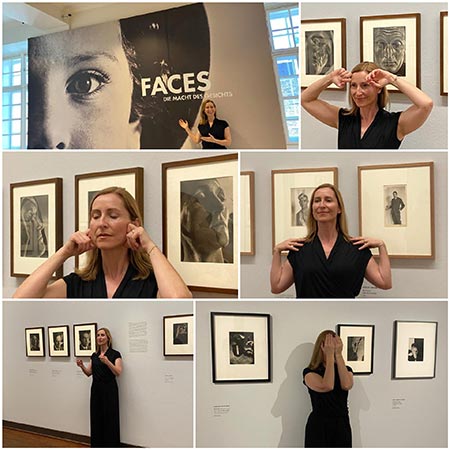 Why face yoga for office?
Most people spend around 6.5 hours in front of their computer screens in the office every day.
The result is strong tension in the facial muscles. They trigger a series of chain reactions in our body.
"Tense one thing, tense the other!"
Fumiko Takatsu's internationally recognized 4R method teaches not to consider the facial muscles in isolation from the rest of the body:
Everything is connected.
"Release! Rebuilt! Relax! Repeat!"
Face yoga sharpens the perception of the 43 most important muscles of the face and relieves the muscles affected by physical or mental stress.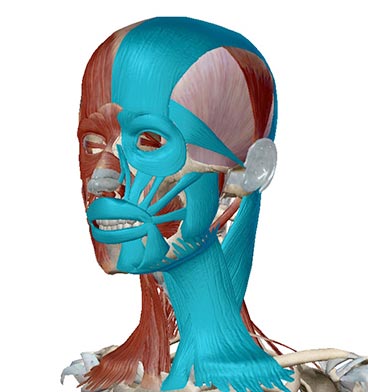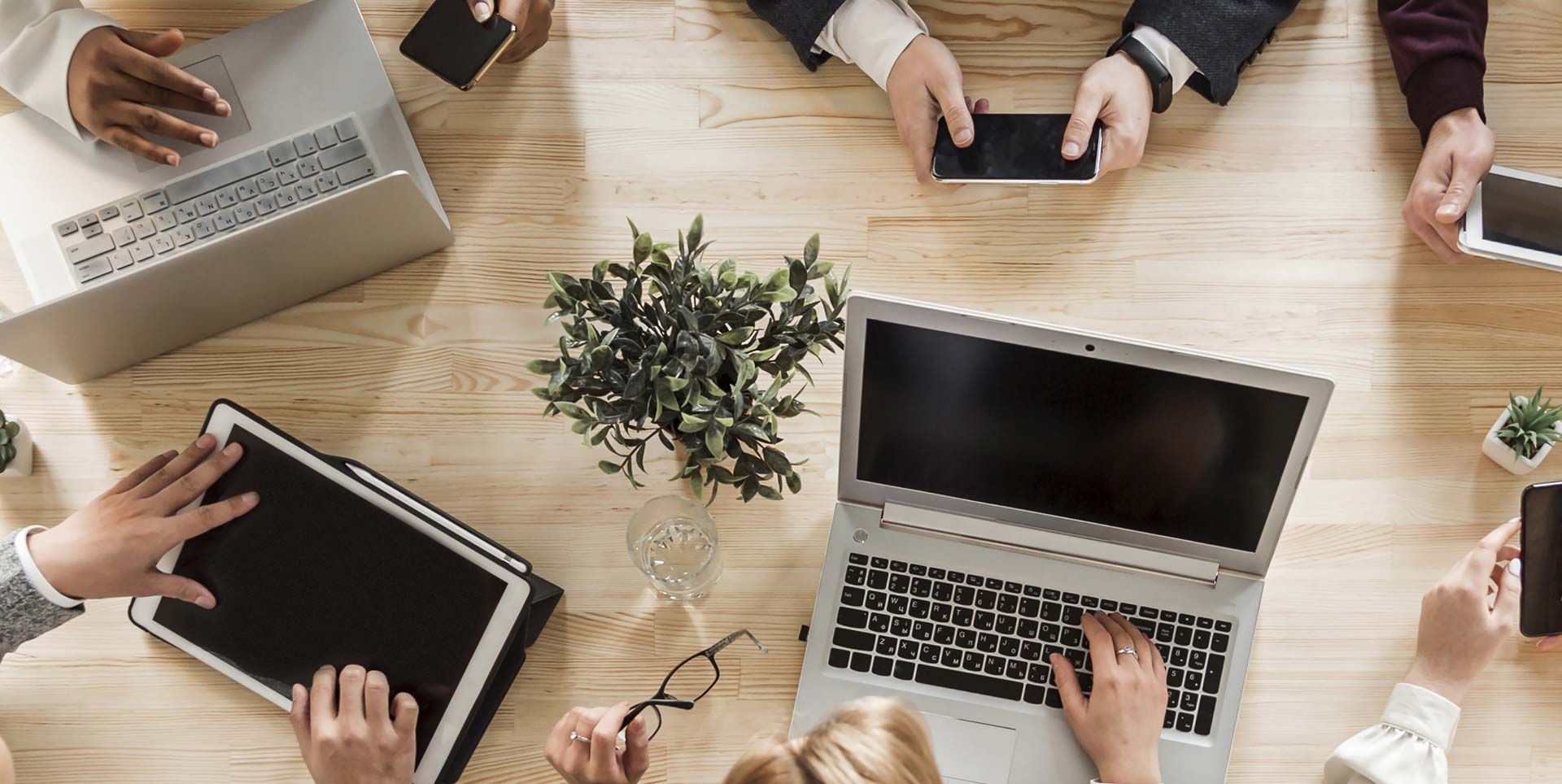 Face Yoga for Office
I have developed this proven face yoga programme into a step-by-step training guide for your everyday office life.
The face yoga training can then be easily integrated into your daily office routine directly at your workplace through micro-breaks.
Regular face yoga training leads to success.
Face Yoga Beauty Boost
This is face yoga for professionals that often have to stand in the spotlight
improves complexion & radiance
defines the facial contours
bigger eyes, reduction of droopy eyelids
higher, defined cheeks
reduces the nasolabial fold
raises the corners of the mouth
fuller lips
reduces facial swelling
reduces double chin
less wrinkles on the forehead
reduces crow's feet
reduces bags under the eyes
reduction of dark eye circles
less frown lines (11 line)
firmer and more youthful face
Individual needs-based face yoga on request!
Corporate face yoga offer - for office
I would be delighted to create a personalized and suitable face yoga offer for your department.